Juteborg AB is continuously driving sustainability by JuteTech – Jute high tech innovation, development and commercialisation while transforming the entire Jute value chain.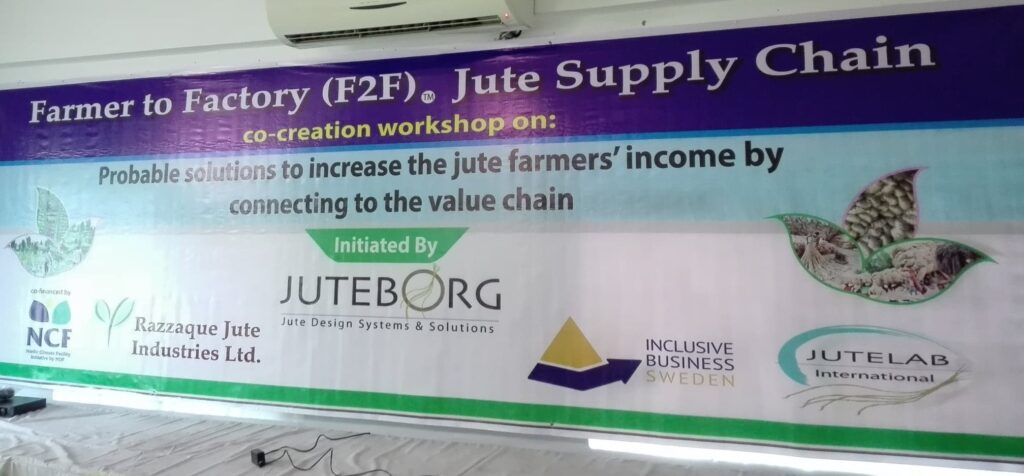 A day long workshop and training on Farmer to Factory Jute Supply Chain ™(F2F™) has been taken place in the factory premises of Razzaque Jute Industries LTD in Bangladesh on the 23rd and 24th of July 2019.
Farmer to Factory Jute Supply Chain ™ (F2F™) model is a concept initiated by Juteborg AB, back in 2016. F2F™ is focused on traceability of jute fiber from seed till finished jute high tech products, certification of the jute fiber, secure the volume of future demand of certified jute fiber while ensuring fair price to the jute farmers.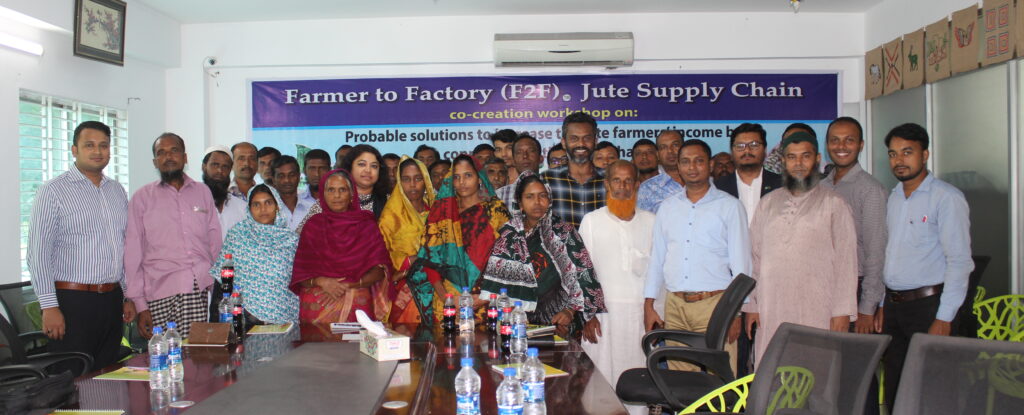 A series of workshops were designed to identify challenges and co-create solutions to meet the objectives of F2F™.
The first workshops were successfully organised in the same venue at the last week of February 2019 which were aimed at identifying the challenges in the Jute value chain. There was also a dedicated workshop targeted to co-create climate change adaptation and mitigation measures for the Jute farmers.
The first workshops were inaugurated by the Honorable Minister Golam Dastagir Gazi Ministry of Textiles and Jute and was attended by Abed Khan Chairman Press Institute Bangladesh – PIB , District Commissioner of Faridpur and SP of Faridpur and garnered their continued support and assistance.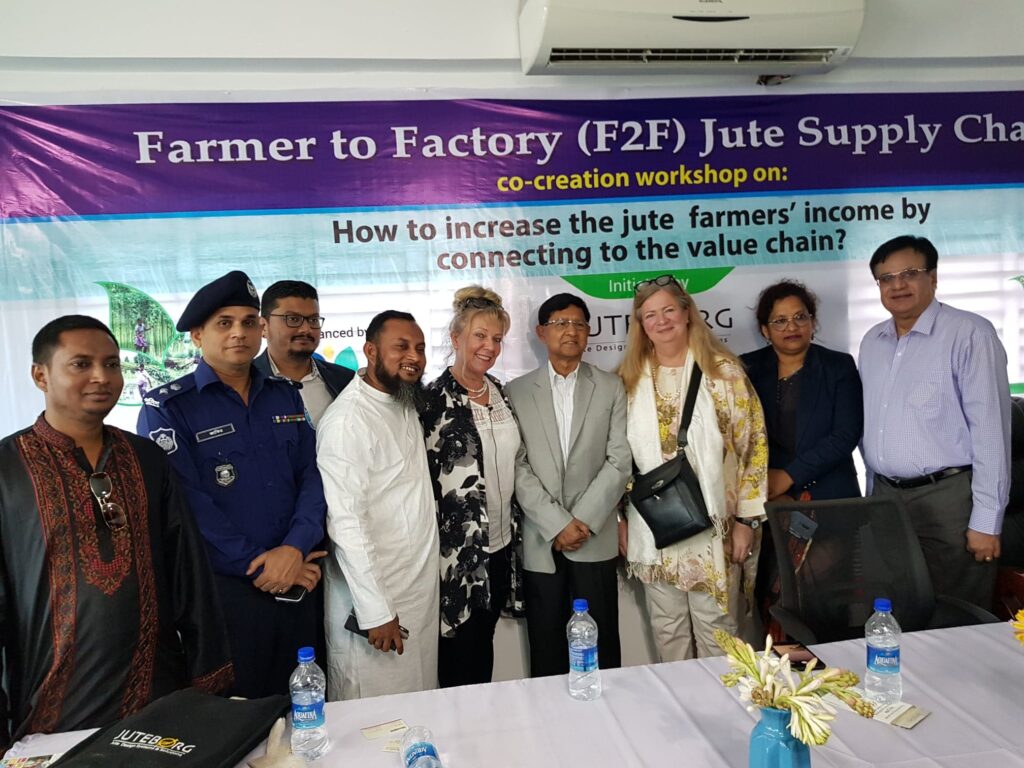 (Photos from the first workshops in February 2019)
The second workshop was focused on co-creating the probable scalable solutions to the challenges identified in the first workshop and includes training sessions on the Climate Change Responses & Farmer-to-factory (F2F™) Trade Conditions which includes the use of natural fertilizers, identifying high quality jute seeds, the grading of jute etc.
More than twenty jute farmers from the local area including females who are an integral part of the jute value chain, along with representatives of public sector, private sector (like Nagad, Green Delta Insurance Company Limited), development organisations from Bangladesh (like CARE Bangladesh, BRAC) Sweden and other European countries were present in this workshop. (Following are the photos from the 2nd workshop and training in July 2019)
Juteborg Sweden AB is a Sweden based jute high tech and innovative company co-founded by Christina Östergren and Else-Marie Malmek which entered into collaboration with Faridpur based Razzaque Jute Industries LTD, owned by Mr. Abul Bashar Khan. As a part of this partnership, the F2F™ workshops are being jointly organised in the factory of Razzaque Jute Industries LTD in Faridpur by Juteborg Sweden AB, JuteLab International. Inclusive Business Sweden extended active support.
It is the first ever initiative of its kind concerning Jute. 1200 farmers from Faridpur – the best Jute growing area in the world, are within the scope of validation of F2F™ model.
The F2F™ project is co-funded by Nordic Climate Facility (NCF), a Nordic challenge fund by a Helsinki; Finland based nonprofit organisation named Nordic Development Fund.
A historic move by Juteborg AB to bridge between Sweden and Bangladesh with Jute high tech innovation and value chain transformation through inclusive business model for a sustainable world.
Click here to the see the facebook post